15 products you shouldn't get on Amazon right now—and where to get them instead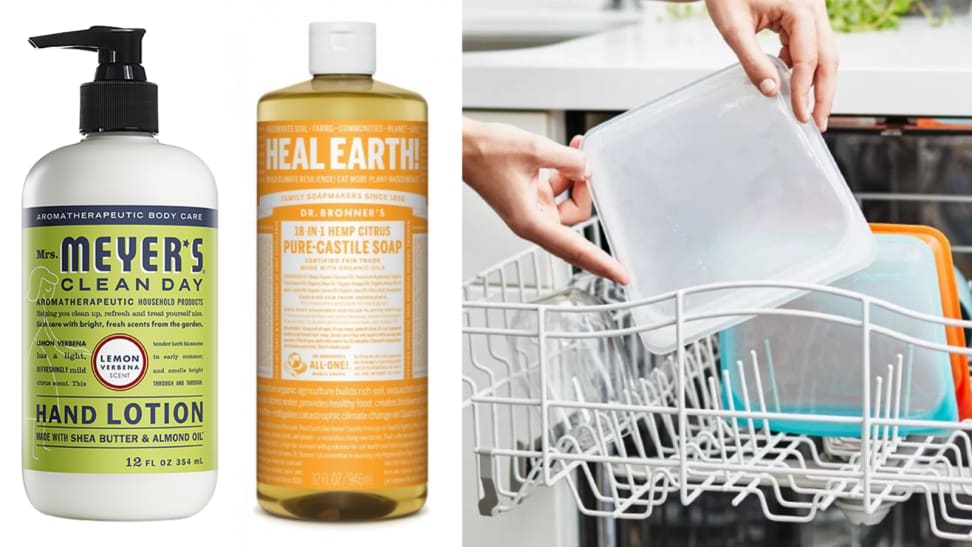 — Recommendations are independently chosen by Reviewed's editors. Purchases you make through our links may earn us a commission.
As quarantine times and social distancing periods are extended, it's important to stay well-stocked in staple items. While it's very easy to turn to Amazon for everything from food to bedding, it's important to remember that smaller retailers might need a bit of love in the midst of these uncertain times.
Aside from that, many popular items on Amazon are out of stock or experiencing major delays in shipping times. We've gathered up a few everyday products and services you might be looking for throughout quarantine, as well as the retailers that are still stocking them.
1. Hand soap
Hunting for hand soap? You're not alone. This essential is sold out across a number of retailers (including Amazon), but thankfully, it's still in stock at some of the big stores.
Mrs. Meyers is a trusted brand when it comes to home cleaning and home goods, and this two-pack of hand soap (in a heavenly lemon verbena scent) is perfect to flesh out whatever stock of hand soap and hand sanitizer you have on hand. They still have this scent and many others in stock, and they're having a sale on home sets that feature hand soap, dish soap and household cleaner, too, so check out their website for more options.
Aside from Mrs. Meyers, you can still pick up hand soap at Office Depot, Target, and Staples.
2. Tea bags
Tea has always been my go-to anxiety reliever. There's something so soothing in the ritual of making tea, and tea ingredients can give your immune system a little boost in the bargain. This lemon and cayenne cleansing tea from David's Teas is beloved by reviewers for its bright, spicy kick. Several reviewers mentioned that this is their favorite tea to make when they're under the weather.
If you're more into variety when it comes to your daily tea, we recommend checking out Sips By, a subscription service that matches your taste to various high-quality brands. Our editor Meghan Kavanaugh loved her experience with this tea subscription box.
3. Paper towels
With everyone buying up paper towels left and right, it can be easy to get a bit panicky over how to keep your kitchen clean—enter the reusable paper towel. These handy cloth paper towels made from bamboo are each made to stand up to 80 uses, and can be washed in the washing machine when they're dirty.
Reviewers love that these help to save money compared to traditional paper towels, plus they help you cut back on paper waste.
Get the Washable Bamboo Paper Towels (1 Roll) from earthsider for $24.90
4. Razor blades and cartridges
Billie has been everywhere lately, and their subscription service is perfect for quarantine since they'll deliver you a new razor depending on how frequently you shave. Sign up for their most basic package and get a new razor every month or have blades delivered three times a month.
Each razor comes complete with charcoal shave soap to truly keep you clean, and there are five lovely color schemes to choose from. Plus, when our in-house beauty guru Jessica Kasparian tried Billie and loved it.
Get the Razor Starter Kit from Billie for $9 (one razor per month)
5. Laundry detergent
Shoutout to my sister who recommended this to me after I introduced my scary intentions of washing my clothes in the bathtub. Dr. Bronner's Pure Castile liquid soap is formulated to be useful in many scenarios, like face and body wash, hair and dish soap, and even a clothes-washing solution. The key to using the soap is diluting it per the recommendations.
Reviewers love to use this soap for just about anything and many mention that Dr. Bronner's is their go-to cleaning solution for not only their bodies, but their homes, too.
Get the PURE-CASTILE LIQUID SOAP from REI for $18.95
6. Puzzles
Amazon is usually a great place to pick up puzzles, but right now their stock is limited. We recommend checking out your local book or hobby store first if you're looking for specific games. On the other hand, many other online retailers are well-stocked on puzzles right now.
Zulily has dozens of highly-rated 1000+ piece puzzles that are perfect for staying at home, whether you're looking for a puzzle that focuses on your favorite furry friend or one that makes you yearn to travel again.
7. Food storage bags
You're probably making more food than you ever have before, so make sure you're picking up storage bags and containers to help you save your leftovers.
The Grommet carries an amazing variety of products from small businesses and independent creators, and we recommend browsing their site for all your quarantine needs. We especially recommend checking out their reusable silicone storage bags by Stasher. With the amount of cooking we'll all be doing in the next few months it's important to make the most of your leftovers, and these bags will allow you to do that without generating too much waste.
Alternatively, writer Tessa Bahoosh loved using Bee's Wrap as an alternative to plastic. This solution made from bees wax makes a great, pliable alternative to plastic and can easily hold up in the fridge.
8. Weighted blankets
Amazon carries our favorite affordable weighted blanket, but right now, it's sold out. We're all looking for a little bit of comfort in the midst of staying in and social distancing, so if you're craving a new weighted blanket, there are a few alternatives you can check out.
Our favorite weighted blanket is the Gravity Blanket, which reviewers and staff members alike swear by. It's on the more expensive side, but we've found it's well worth the investment. The Gravity Blanket hugs your entire body and feels deliciously soft, making it perfect for a comforter or couch blanket.
If you're looking for a budget option, we recommend picking up the Tranquility blanket from Target. It wasn't our favorite blanket, but it did perform considerably well for its price point (right now, you can get it under $40).
9. Dish soap
Face it—you're absolutely going to do more dishes while you're stuck at home. Dish soap is getting increasingly hard to find, but luckily Home Depot is still stocking dish liquid, including this great natural dish soap by Seventh Generation. This plant-based dish soap is hypoallergenic and biodegradable, and reviewers love how environmentally friendly this product is.
Get the 25 oz. Natural Dish Free and Clear Liquid Soap from Home Depot for $4.01
10. Tissues
The CDC recommends using tissues to avoid spreading illness. While you're grabbing your dish soap, pick up some tissues as well. Home Depot is still stocking tissues, so order some of these Kleenex to better prepare yourself to stay healthy. Note that there's a limit of 10 boxes per order.
Get the Box Tissue (95-Sheets per Box) from Home Depot for $4.32
11. Indoor plants and herbs
People are starting to focus on ways that we can create fresh food in our own homes. What better starting point than this easy, self-watering, aesthetically-pleasing herb garden situation? Some of their herb options are out of stock, but you can grow sage, parsley, and oregano in the comfort of your own home. Choose your starter herb and Uncommon Goods will send over seeds, a jar, and everything you need to get started. Plus, it's also a fun activity for kids because they can monitor growth daily.
And if you're looking for a plant buddy to keep you sane during the day, consider picking up a plant from The Sill, which ships live plants straight to your door, and carries an extensive collection of plants perfect for those of us with brown thumbs.
12. Yoga essentials
Treat yourself to a little bit of movement, but instead of investing in yoga mats and clothes, check out classes that will ensure you're doing the right movements.
The Yoga Collective has video classes for all kinds of yoga flows, and for the time being, they're offering a fifteen-day free trial so you can test out their service. Beyond the first two weeks, Groupon is offering deals on Yoga Collective memberships, so check there if you're looking to develop a yoga habit.
Try The Yoga Collective for $15/month
13. Computer monitors
Computers are flying off the shelves right now, especially at Amazon. It's a good time to grab a secondary computer monitor to supplement your home office setup, but you may be hard-pressed to find one at a decent price. Luckily, HP sells a range of monitors under $150, many of which are well-reviewed by their users.
Get the HP P244 23.8-inch Monitor from HP for $149
14. Office desks
Having a decent workspace is essential if you plan to work from home. We're not talking just any old spot where you plop down with your laptop, but rather, having a space that is specifically designated for work. Having a desk will help draw those lines. Wayfair has been having sales on desks left and right, so check out their website for great desks like the Paige Writing Desk (pictured above) which reviewers love for its cute look and space-saving design.
Get the Paige Writing Desk from Wayfair for $101.99
15. Fresh groceries
Amazon is usually a great place to pick up fresh groceries and pantry staples, but as you can imagine, they're experiencing lots of delays on certain products. Instead of opting for specific ingredients, we recommend signing up for a meal kit, which will deliver every ingredient you need directly to your home.
We always talk about how much we love Home Chef, and this is a perfect time to start exploring the world of home cooking. Home Chef is still delivering and each meal comes with everything you need to cook, so you won't have to dig into your ramen stash quite yet. They also don't require a signature upon delivery, so you can stick to contactless delivery protocols.
Try Home Chef starting at 6.99/meal
The product experts at Reviewed have all your shopping needs covered. Follow Reviewed on Facebook, Twitter, and Instagram for the latest deals, product reviews, and more.
Prices were accurate at the time this article was published but may change over time.